About Tyson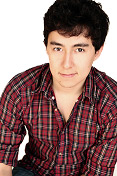 Star on the rise Tyson Connor Houseman has emerged in the forefront of the entertainment business as one of the most-watched young actors in the film industry today. Born in Edmonton, Alberta, Canada, 23-year-old Tyson has become known for his quirkiness, complexity, and multidimensional acting talents. He landed his first acting role as "Quil Ateara" in Summit Entertainment's box office smash hits, THE TWILIGHT SAGA: NEW MOON, and then reprised the role in the films, ECLIPSE, BREAKING DAWN, PART 1 and BREAKING DAWN, PART 2.
Tyson always had a passion for acting and he attended a performing arts high school in Edmonton that housed one of the top theater programs in Canada. Once graduated, he made the move to Vancouver where he attended an acting school. While searching for a job on Craigslist, he found an ad for an open casting call for a major motion picture about to start production in Vancouver. The competition for a role in the blockbuster film series was fierce, but Tyson was determined to land the once in a lifetime opportunity. In February 2009, he was offered the role of "Quil Ateara."
Although the TWILIGHT series may be his most notable projects to date, Tyson has worked on numerous smaller theatre and film projects. He notes, "lasting power in this business is more than just talent, you have to have a good head on your shoulders, be passionate about what you are doing and put everything into your performance. And it doesn't hurt to have a solid education to back you up!" Tyson is currently in his third year of the Bachelor of Fine Arts Program at Concordia University in Montreal. He spends some of his free time working with theatre companies in both New York and Montreal.
Tyson is also a strong role model for aboriginal youth. He has traveled to many communities all over North America to visit with youth and deliver his keynote address "Following your Dreams." If you are interested in having Tyson come to your community or event, please click the following link:

HIRE Tyson!