About Todd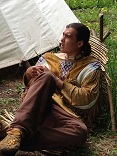 Todd Houseman is one of the funniest new members of the Canadian Improv scene. He was born and raised in Edmonton, Alberta, Canada where he attended a Fine Arts High School and first discovered his love for improvisational live theatre. He quickly worked his way up the ladder of Edmonton's prestigious "Rapid Fire Theatre Company" and is now a full working member of the company. His quick wit and hilarious impressions make for an exciting addition to any show. He can be seen Friday nights at the Citadel Theatre in Edmonton, Alberta.
Todd also works as an aboriginal interpreter at Fort Edmonton Park and in his free time volunteers at an Edmonton inner city school teaching improv to at-risk youth.
Although Todd is fairly new to acting, he is already showing promise as an up-and-coming star in the television industry. He auditioned and won the role of "Wesley" a main cast member in the television series "Delmer & Marta" which will be airing on APTN in 2014.